SEC Compliance for non-U.S. companies
Download our SEC Form 6-K Pre-filing Checklist
6 tips from DFIN on filing your next 6-K – powered by ActiveDisclosure℠ by DFIN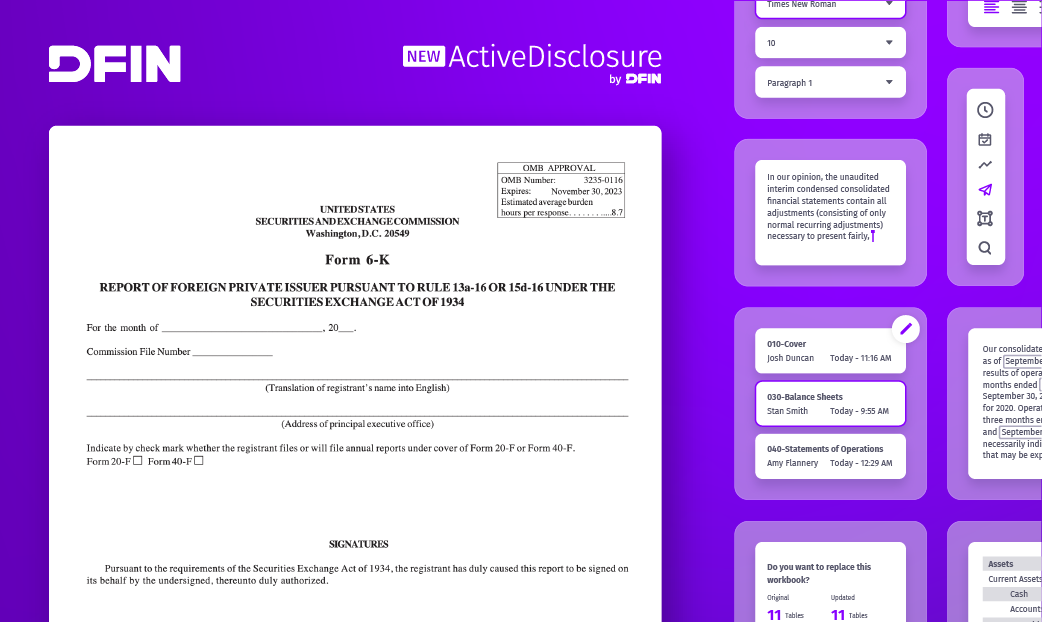 The U.S. Securities and Exchange Commission (SEC) has stipulated that Form 6‑K is a reporting form under which SEC-registered Foreign Private Issuers (FPI) are required to use to provide timely and ongoing disclosure about material events of the company. Once a FPI has listed its securities in the United States, the FPI becomes subject to reporting obligations under Section 13 of the US Securities Exchange Act of 1934.

Globally, thousands of companies have chosen to work with DFIN in their regulatory filings. DFIN's new ActiveDisclosure℠ is a purpose-built SEC and financial reporting software designed to enable faster and more collaborative workflows in the reporting process.

In reference to many of our clients' successful SEC filings, the DFIN ActiveDisclosure team developed a pre-filing checklist which highlights 6 tips and recommendations including formatting, exhibit indexing, and filing times & dates, to help current and future FPIs better prepare for their next SEC Form 6-K filing.
Fill out the form to download the DFIN SEC Form 6-K Pre-filing Checklist.